Tour - Operating area
Besides surgical instruments, the CVRS surgical unit is fully equipped with anaesthesia machines and vital signs monitors. A sterilization technician works full time to sterilize instruments (steam autoclave and ethylene oxide), manage operating rooms, maintain materials, manage implant inventories and supervise overall functioning.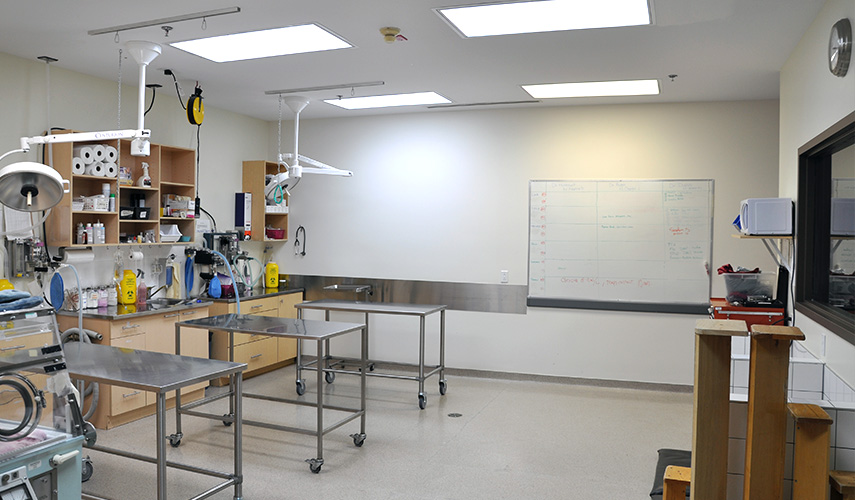 Anaesthesia
Patients undergoing general anaesthesia are monitored in accordance with the planned intervention. Each specialized operating room is equipped with devices to monitor heart and respiratory rates, direct and indirect pressure, expired CO2, oxygen saturation, etc. Respirators are also routinely used for longer procedures. What's more, operating rooms all have heating systems to prevent hypothermia during anaesthesia. On awakening from surgery, small animals benefit from paediatric incubators and large dogs from hot air blankets.
Pre-operative Room
Patients are anaesthetized, shaved and prepared for surgery in pre-op. Before a patient is transferred to the operating room, the locale is properly prepared, then disinfected following a stringent protocol.
Operating Rooms
Operating rooms have been built according to the highest quality standards in veterinary medicine, using strategic positive pressure ventilation and specific air filters. Computers/screens are directly linked to the medical imaging system, offering access to images for X-rays, ultrasounds and CT scans.
Recovery Room
As with newborns in human hospitals, the incubator provides oxygen and/or heat for puppies and kittens, small animals waking after a long surgery (when their body heat goes down) and all sick or fragile animals requiring heat and continuous observation. Hot air blankets are also available for large dogs.